UPPER RIVER HALL Kangaroo Valley NSW
Benji and the Saltwater Sound System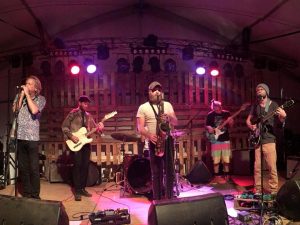 Benji and the Saltwater Sound System will be laying down the grooves on Saturday 2nd February at the Upper River Hall which will be transformed into a breezy, summery music venue – with seating for those who want to relax and watch, room for dancing and space for chatting and mingling. Starting at 6pm and finishing at 9pm, this is an all ages event, and the ticket price includes snacks and refreshments. BYO drinks (and glasses) and join us for a wonderful evening of music and community under the summer stars.
This is a band of six incredibly talented musicians. They are wonderful to listen to, inspiring to watch and fun to dance to! Fusing summery pacific flavours with jazz, reggae, world folk and African roots, Benji and the Saltwater Sound System create original hypnotic soundscapes underpinned by catchy melodies. You can find out more and hear some of their music at www.benjiandthesss.com
You might remember local south coast lad Ben Fowler and his previous band Southerly Change played at Upper River Hall as part of our first artist residency in 2014. Since then Ben has spent some time in the Solomon Islands and come back with a rice bag swag of fresh musical produce. He formed Benji and the Saltwater Sound System in the summer of 2017 and they have hit the shore running, playing to audiences at a snowballing number of live shows and high profile festivals slots, including the KV folk festival. They also released an EP at the end of 2017 Coming Up For Water. Copies of the EP will be available for purchase on the night (cash only).
We can't wait to see them at Upper River Hall in February to start our 2019 ARTS LAB program with some smooth salty sweet sounds.
Bookings essential: All tickets $25
This is an all ages event. Under 5 years free. Children must be supervised at all times.
TICKET PRICE INCLUDES SALTY SUMMER NIBBLES & REFRESHMENTS.
BYO drinks & cups